Setting Stronger Foundation
A flat organization, managed by young innovators is driven by a true spirit of collaboration and teamwork. Qualified team of professionals, driven by passion to commercialize the innovative ideas, makes Synersoft differt and keeps it innovative.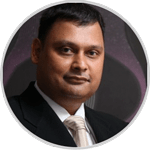 S VISHAL
CEO and Co-Founder
"THE SECRET OF ALL VICTORY LIES IN THE ORGANIZATION OF THE NON-OBVIOUS."
I am a leader who can play any requisite role to complement teamwork and achieve results. Over 22 years, through various opportunities in IT, I have evolved and still evolving. My passion, creativity and self belief have put me where I am. I have crystal clear vision, I follow challenging mission and, I am a tough task master. I value time more than anything and believe in theory of karma. Yoga, photography, traveling and work-out are anytime yes for me.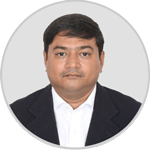 C SUDHEER
Marketing Director and Co-Founder
" POOR FIRMS IGNORE THEIR COMPETITORS; AVERAGE FIRMS COPY THEIR COMPETITORS; WINNING FIRMS LEAD THEIR COMPETITORS."
My 20 years of love for product marketing is what keeps me going. With a knack of channel development and brand building, I am enjoying my time with this once in a life time disruptive product marketing experience. It's different, I would say. I am responsible for marketing strategies Synersoft executes for its innovative products.